Our Organization
Sheriff Chris Nanos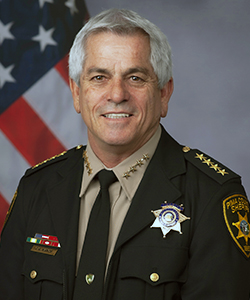 Sheriff Chris Nanos was born and raised in El Paso, Texas. Before becoming a law enforcement officer he attended the University of Texas - El Paso, majoring in Public Administration/Criminal Justice. Sheriff Nanos began his career in law enforcement in 1976 with the El Paso Police Department. He became a member of the Pima County Sheriff's Department in 1984 as a corrections officer and was promoted to deputy the following year, which began the upward trajectory his career would continue to follow. Throughout his career Sheriff Nanos has maintained a strong emphasis on his work in Criminal Investigations, particularly Violent Crimes, Sex Crimes, and Narcotics Interdiction. This dedication to his work has allowed him to move up the ranks within PCSD, previously serving as Chief Deputy and appointed Sheriff. In 2020, Sheriff Nanos was elected as Sheriff and returned to the department ready to serve the community. He is responsible for a multi-million dollar budget and a department comprised of nearly 1500 highly qualified, trained, and committed employees complemented by over 400 volunteers who provide support throughout the organization. Sheriff Nanos is supported by his wife of 36 years, Charlene.
Chief Deputy Richard J. Kastigar
Chief Deputy Richard Kastigar joined the Pima County Sheriff's Department in 1977 as a detention officer. Two years later he was promoted to deputy and although Chief Kastigar had no early aspirations to pursue a law enforcement career, he soon realized the adventures he could experience as a cop. After being promoted to sergeant in the early 1980s, his work brought national and international recognition to Pima County for its volunteer and crime prevention programs. Chief Kastigar retired as a Bureau Chief in 2013, with distinction and honor. A short time later, Sheriff Dupnik asked him to return as the Sheriff's Executive Advisor and Communications Manager, where he continued to serve as a civilian employee until 2017. Sheriff Chris Nanos appointed him as Chief Deputy on January 1, 2021. He is now responsible for the entire department's day-to-day operations and is energized and inspired by the hard-working men and women that make this organization one of the best law enforcement agencies in the nation. Chief Deputy Kastigar and his wife of 41 years, Denise, have 2 daughters living military lives with their respective Army Officer husbands and six grandchildren.
Corrections Bureau Chief Jesus Lopez
Chief Jesus Lopez has had the privilege to serve the community with the Pima County Sheriff's Department for 33 years. In that time, his various assignments have allowed him to apply strong leadership skills to empower his staff to succeed. Chief Lopez recognizes the quality of the department is defined by the performance of its most valued asset--the men and women who work here.
Captain Scott Lowing
PCSD proud since 1988. Currently overseeing the Corrections Operations Division, which includes:
Administrative Segregation Section
West Section
East/Mission Section
Jail Booking Intake Section
Judicial Security Section
Tower Section
Captain Robert Koumal
PCSD proud since 2006. Currently overseeing the Corrections Administrative Division, which includes:
Inmate Food Service and Supply Section
Inmate Records Section
Technology/Compliance/Logistics
Medical Services Section
Planning and Research Section
Special Programs Section
Operations Bureau Chief Joseph D. Cameron
Chief Joseph D. Cameron has had an interesting 34-year career with the Pima County Sheriff's Department. Chief Cameron has spent time in multiple leadership positions working within vital functions of the department and has a special appreciation for the contributions made by our valued civilian staff. Chief Cameron's key philosophical approach holds that each member of the department is valued and respected and that those same principles be reflected on to the citizens we serve.
Captain Edward Spinney
PCSD proud since 1992. Currently overseeing the Criminal Investigations Division, which includes:
Economic Crimes Section
Narcotics and Special Investigation Section
Violent Crimes Section
Captain Eric Johnson
PCSD proud since 1990. Currently overseeing the Patrol North Division, which includes:
Foothills District
Rincon District
Tucson Mountain District
Vail District
Captain Douglas Hanna
PCSD proud since 1996. Currently overseeing the Specialized Response Division, which includes:
Special Operations Section
Tactical Response Section
Force Commander
Administrative Bureau Chief Gerard Moretz
Chief Gerard Moretz, a former public school teacher, has spent many of his 23 years with the PCSD contributing to various training endeavors and is now engaged in revitalizing the department's recruiting and training programs. Chief Moretz sees the commitment and energy of the department's members as the most important factors in how we positively impact the community. In all things, Chief Moretz looks to balance department efforts against what is truly beneficial and relevant to the citizens of Pima County.
Captain Gilbert Dominguez
PCSD proud since 1999. Currently overseeing the Support Services Division, which includes:
Information Systems Section
Material Management Section
Records Management Section
Risk Manager
Technical Support Section
Communications Section
Captain Aimee Trueblood
PCSD proud since 1995. Currently overseeing the Administrative Division, which includes:
Staff Services Section
Corrections Staff Services Section
Training Section
Community Services